About us
This history/travel app lets you explore the whole Roman empire.
TimeTravelMapps Sàrl was created in Geneva in 2017. Our goal is to develop innovative mobile solutions for travellers, students and anyone passionate about history.
Our TimeTravelRome Mobile App was developed by Pavla SA and it is dedicated to the Ancient Roman Empire.
Please use the 'Contact Us' form to write to us about your proposals or ask your questions. We will be happy to hear!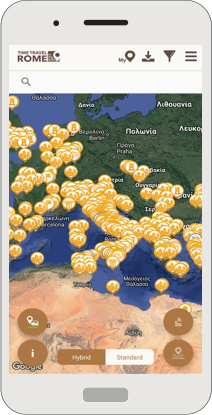 You are free to browse the app and read thousands of original texts about ancient Roman places located on the map.Find at a glance the ancient sites near you, or create your own lists of places to visit. Read the ancient poets and historians while sitting in the landscape they described.
Timetravelrome is made with passion for travelers, history geeks, classics teachers, students and anyone fascinated by the ancient Roman history and its culture.